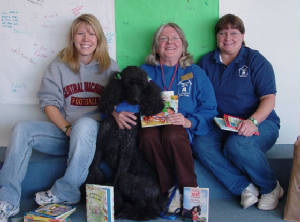 Mortar Board donates Books to Tale-Waggers

Tori, chairperson of CMU's Mortar Board "Trick or Treat for Books," is shown here with co-chairs of MPMKC Tale-Waggers, delivering more than 100 books gathered in the recent drive. CMU's Mortar Board is a chapter of the national honor society and literacy programs are one of their annual events. MPMKC is delighted to have this support from CMU.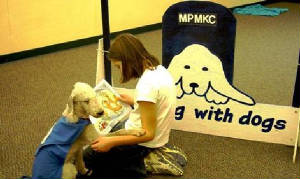 Tale-Waggers™
Begun in 2002, our committee works to improve literacy by letting children read to dogs in a quiet setting. The first such program in Mid-Michigan, sessions are in schools, libraries, and by invitation. Look for a Tale-Waggers™ session at the Mt. Pleasant Veterans Memorial Library and Alma Public Library several times a year. 
Formed by MPMKC in 2002, we officially changed the name of this committee in 2005. Each Tale-Waggers™ kid receives a free book at the end of a 4-week  session. More than $1200 worth of books have been given to community children since 2002, through this committee. For background information on
Tale-Waggers™
 click here, or Contact Chairperson: Alice Jenicke.


HATS Fundraiser/Walk
In October 2005 our members braved the cold, rainy day to help raise money for HATS programs. We have continued to participate in this activity each year since then.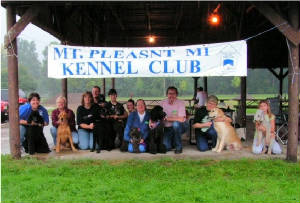 Parades
Kennel club members like to participate in 3 or 4 Mount Pleasant parades a year. Pictured is the 2005 Mardi Gras parade.